Local Golf
There are over 20 golf courses on Mallorca and the nearest to Cala Millor and Cala Bona are at Son Servera, Pula, Capdepera and Canyamel. The furthest of those four is only about a 15 minute drive away.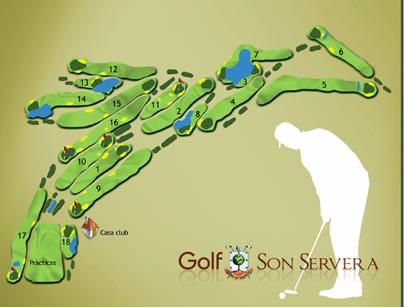 As a unique members club and the second oldest club on the island of Mallorca, Son Servera 18 hole course is situated below a range of pine clad mountains with glorious views over the bay of Cala Millor.
First opened in 1967 to a design by John Harris / Francisco López Segalés, the club has a large contingent of British members, and both experienced and rookie players will enjoy their game through challenging lakes and bunkers.
After your game, the club is renowned for its friendly post-round atmosphere in the club house with views over the 18th hole towards the sea.
Pula Golf is one if the island's more exclusive courses, and the high green fee reflects this. Pula opened in 1995 and despite being a relatively new course it has already hosted some prestigious tournaments which have attracted top names from the world of sport and entertainment.
It is a fairly flat course and commands beautiful views of both the local mountains and the Mediterranean sea. The exclusive Restaurant S'Era de Pula is frequented by the Spanish King, Juan Carlos when he is in Mallorca.
Capdepera probably offers some of the most spectacular views of any Mallorcan golf course. The view from the 15th tee is something worth playing this course for..
Capdepera opened in 1991 and was originally a flat nine hole course but the addition of the extra nine holes changes the complex of the course completely because it contrasts to the flatness of the first nine by rising into the Arta mountains. The Roca Viva Restaurant is worth a trip to whether you are a golfer or not.
Canyamel makes up the four local courses and is set in a natural valley which its designer used to its fullest and at 6,000 metres it offers a real test of any golfers ability.
The course opened in 1989 and like so many Mallorcan courses, it offers fantastic view across the Med. On a clear day you can see Menorca from the 5th tee.
Many natural stone walls have been left intact and form part of the course and right in the middle of the 9th fairway is an old stone cottage - guess where your ball always ends up? Of course, right behind the cottage!.
If you want to pre-book green fees at any Mallorca course before you come on holiday then get in touch with Mallorca Golf Connection, they will sort everything out for you
This website was launched on 1 July 2002

www.calamillor-mallorca.com ©

Visit our sister sites:
Alcudia | Cala d'Or | Santa Ponsa
Magalluf & Palma Nova | Calas de Mallorca